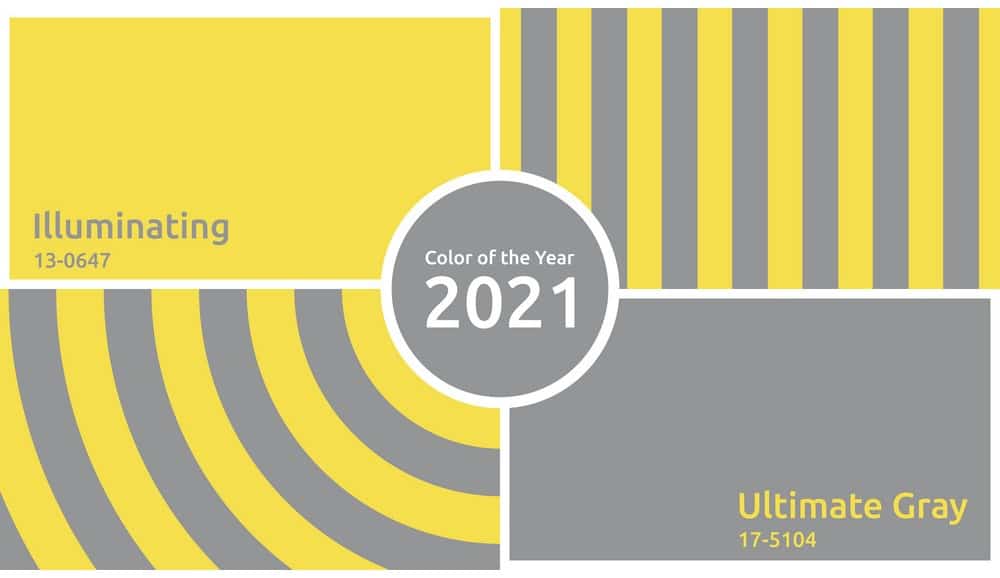 26 Apr

Pantone Colour Of The Year 2021

2021 has been a year of great turmoil and uncertainty, however, what we can rely on is Pantone's yearly announcement for colour of the year to brighten up our worlds and show the continued appreciation for the arts and the designers alike.

For Pantone Colour of the Year 2021 there has been appointed two colours this year, PANTONE 17-5104 Ultimate Gray and PANTONE 13-0647 Illuminating. Both colours combined bring a sense of support and happiness to the much-needed eyes of the public. Described by Pantone as 'A marriage of colour conveying a message of strength and hopefulness that is both enduring and uplifting.'

The two complimenting colours are bright and essential to the year that 2020 has been and 2021 that is to come, following last year's 2020 colour of the year PANTONE 19-4052 Classic Blue which represented a calm and confident aura.
PANTONE 17-5104 Ultimate Gray
A reassuring colour, Ultimate Gray gives us a stable impression, an essence of strength in solitude, and a reassuring presence. It highlights the year, what we have overcome globally, and what we need after such uncertainty is both concrete in appearance and feeling.
The supportive colour brings a sense of wisdom and logic, taking us forward and powering us through difficult times.
Ultimate Gray At PICTOCLUB
PICTOCLUB's bespoke artworks support the solid, reliable and dependable colour that gray provides. Gray is often a calm and detached colour known for being the colour of balance and neutrality, making for a great contrast between the other Pantone Colour of the Year 2021, PANTONE 13-0647 Illuminating.
Iron Blocks – PICTOCLUB Artists Collection

'Iron Blocks' is a PICTOCLUB original, made to order using acrylic and oil on canvas in varying dimensions. The solid shape coincides with the solidarity that PANTONE gray signifies.
Celebrating the abstract and geometric styles, this modern piece is hand-painted and can be placed as landscape or portrait depending on your vision. You can utilise our excellent art advisory service on how to place your art and where.
Forty Five – PICTOCLUB Artists Collection
'Forty Five' is exclusive to PICTOCLUB, also using acrylic and oil paints to masterfully combine bright contrasting colours.
This light gray background with distinct golden yellow dots unites together both colours, presenting a vibrant spark with a solid background. This hand-painted design, incorporating abstract, conceptual and geometric art is also available as a made to order piece.
Untitled 9 – PICTOCLUB Artists Collection

Another stunning piece from PICTOCLUB Originals collection is 'Untitled 9', the thick acrylic brush strokes appear vibrant against the calm and neutral gray.
Providing harmony with the warmer tones. This modern expressionism piece on canvas comes with a black, white, or natural frame. Perfect to keep up with the trend and show support to Pantone Colour of the Year 2021, well one of them anyway.
PANTONE 13-0647 Illuminating
An elevating and bright colour, complimenting the safe gray with an uplifting tone, this illuminating yellow inspires the world and provides us with happiness and energy.
The optimistic shade comes at a time where we value the positives in life, welcome the sun and encourage feelings of vivacity.
Illuminating Yellow At PICTOCLUB
Linne 3 – Linea Lateral
PICTOCLUB presents many works from artists around the world. Mónica Baquedano, known as Linea Lateral is a talented artist showing her skills in geometric art using fabric.
The unique piece 'Linne 3' is created by mixing industrial felt, organic wool felt and grey fabric. Combining the two PANTONE colours, mainly the bright and cheerful yellow in a natural beech wood frame, a piece that truly celebrates the Pantone Colour of the Year 2021.
Afiche – PICTOCLUB Artists Collection

This made to order piece reflects the cheerful yellow in acrylic paint. Created by one of our PICTOCLUB original artists, this canvas displays modern styles of expressionism and presents a beautiful abstract art piece for your home.
If you're looking to be inspired by Pantone Colour of the Year 2021, discover our original piece 'Afiche' here in your choice of dimension in a black, white or natural frame.
About Pantone Colour of the Year
2021 is the first time two colours have been selected for Pantone Colour of The Year, and what beautiful shades have been chosen, accompanying each other perfectly. Reflecting the year we've had and the year we have to come, this shows how carefully selected the prestigious Pantone Colour of the Year is.
For over 20 years now, Pantone's Colour of the Year continues to influence the art and development industry, with Pantone Colour of the Year 2021 being no exception. It holds a sense of authority as it can influence the way we select products, art, the colour we paint our walls or choose fabric for clothing.
Take a look at last year's Pantone Colour of the Year 2020, Classic Blue on our blog to carry on the excitement.