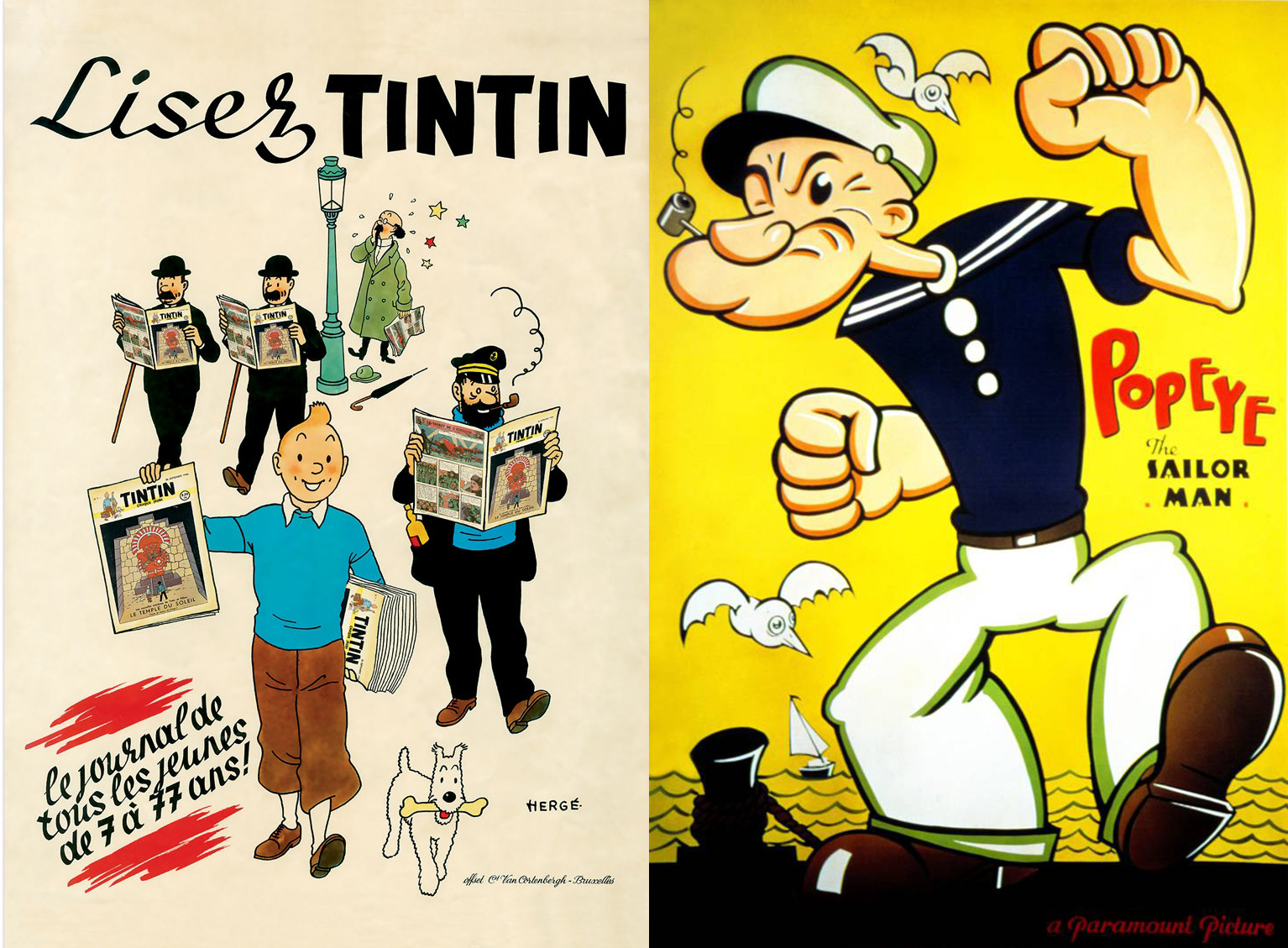 16 Jan

Turning 90 and looking fabulous

The Adventures of Tintin and Popeye The Sailor Man where both published right 90 years ago to become two of the most popular characters in the XX century. Both were born nine decades ago, in January 1929, the year of the crash, which was associated in history at the beginning of the Great Depression and which, however, started with these two foundational milestones of the ninth art as the supreme art of the great evasion.

Hergé's creation was first in newsstands between the pages of Le Petit Vingtième. This Belgian kid supplement magazine was daily distributed with Le Vingtième Siècle newspaper. Tintin borned as the result of the natural development of Hergé's previous character; the boy scout Totor. Following the stereotype of fearless reporters of that time as Robert Sexé, who went around the world, Tintin became fast an icon. Not just for living such impressive adventures, but for establishing its own graphic and narrative style.

Although the most of the albums were published before the 50's, Hergé's creation cut across the comic adapting itself to the cinema, cartoons and merchandising.

Right the same happened with the other character involved in this story. Just a week later, the daily comic strip released by Thimble Theatre introduced a strange figure: A one-eyed pipe smoking sailor man. This strong and weird character captivated the readers by his humour immediately. Its acceptance was so incredible that the comic strip changed its name into Thimble Theatre Starring Popeye, becoming Popeye the main player of the adventures. The comic strip became a cartoon serie really quick. This was the beginning of Popeye the way we know it nowadays.

Popeye has been also considered as the origin of the superheroes due to its supreme strength and small vulnerability.

Tintin and Popeye achieved a great success and became undoubtful cultural icons of the 20th Century. Recognisable idols of the pop culture that we are lucky to enjoy today.