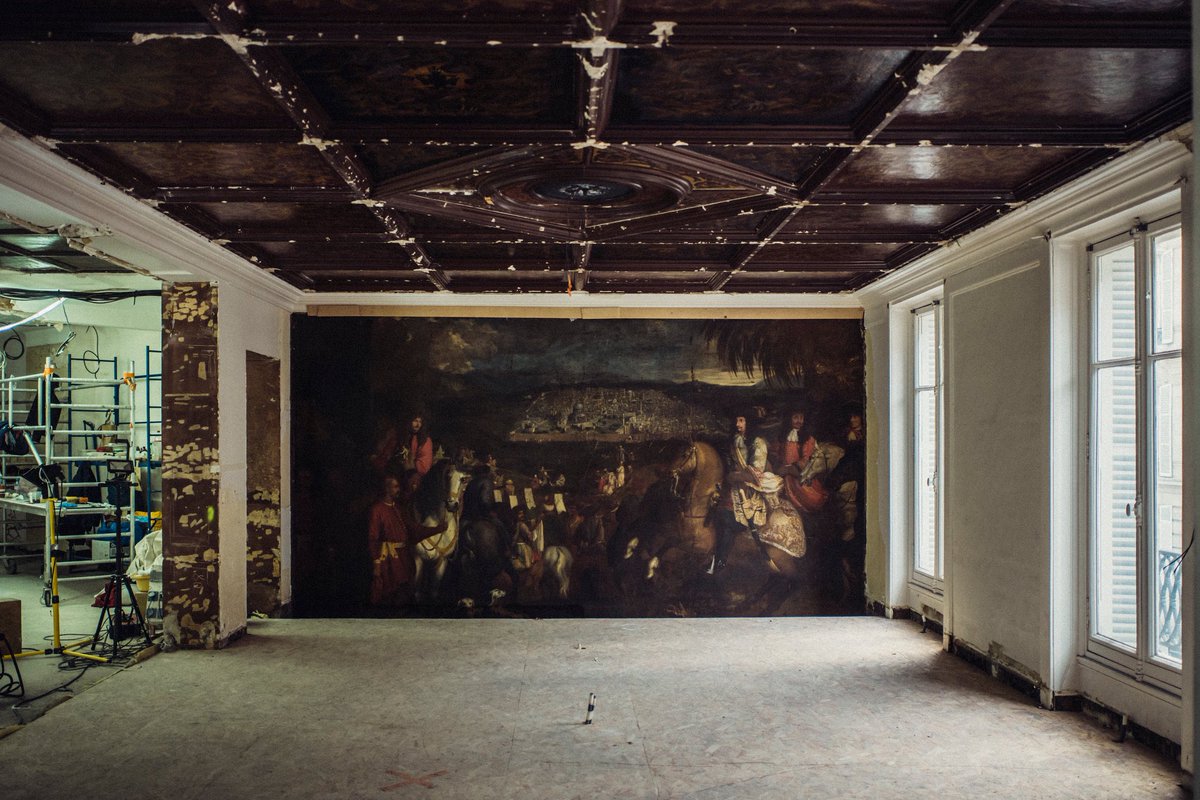 13 Feb

How the reform of a luxury 'boutique' became a mystery thriller in Paris

Many times many things appear when works are done in an old building, but nobody was prepared for what the architects hired by the firm Óscar de la Renta to found when they threw a wall.

The discovery is literally historical: three meters high and six meters wide XVII century mural preserved in really good condition.

The artistic treasure was located behind a wall that was thrown on the second floor of the new store of the luxury brand Oscar de la Renta (the brand of the famous Dominican fashion designer who died in 2014) that began to be built in 2017. The renovation, commissioned to Jeang Kim and Will Kim both from Oro Studio, aimed to give the shop a classic and elegant look, away from the minimalism of other great haute couture boutiques.

The mystery of that huge mural depicting a seventeenth-century Marquis, neatly dressed, accompanied by his courtiers, all of them arriving in the city of Jerusalem, began to be solved when an art historian came on the scene: Stephane Pinta. This professional determined that the painting had been painted in 1674 by Arnould de Vuez, an artist who worked with the camera painter of Louis XIV as interior designer at the Palace of Versailles.

But, how did this mural end up in this location, and what is stranger, hidden and walled up? Pinta considers that it could have to do with World War II: the mural could be hidden there to protect it from Nazi bombing. It must be remembered that in France nearly 600 works of art were damaged during the Second World War.

Before the mural was found, another historic treasure was found hidden behind the plaster false ceiling: a beautiful wood ceiling formed by 29 panels of carved wood, eight of them containing different heraldic seals, and with a diamond in the centre. It was calculated that this hidden ceiling, very well preserved, could date back to the XIX century.

Oscar de la Renta's team decided to keep and restore both discoveries, what meant a delay of months in the opening of the store and a significant amount of budget added to the project. But maybe all of that will be worth it when the store opens, predictably, in spring 2019. If all the haute couture boutiques of the world seek to be a unique place, the new Oscar de la Renta will really be.