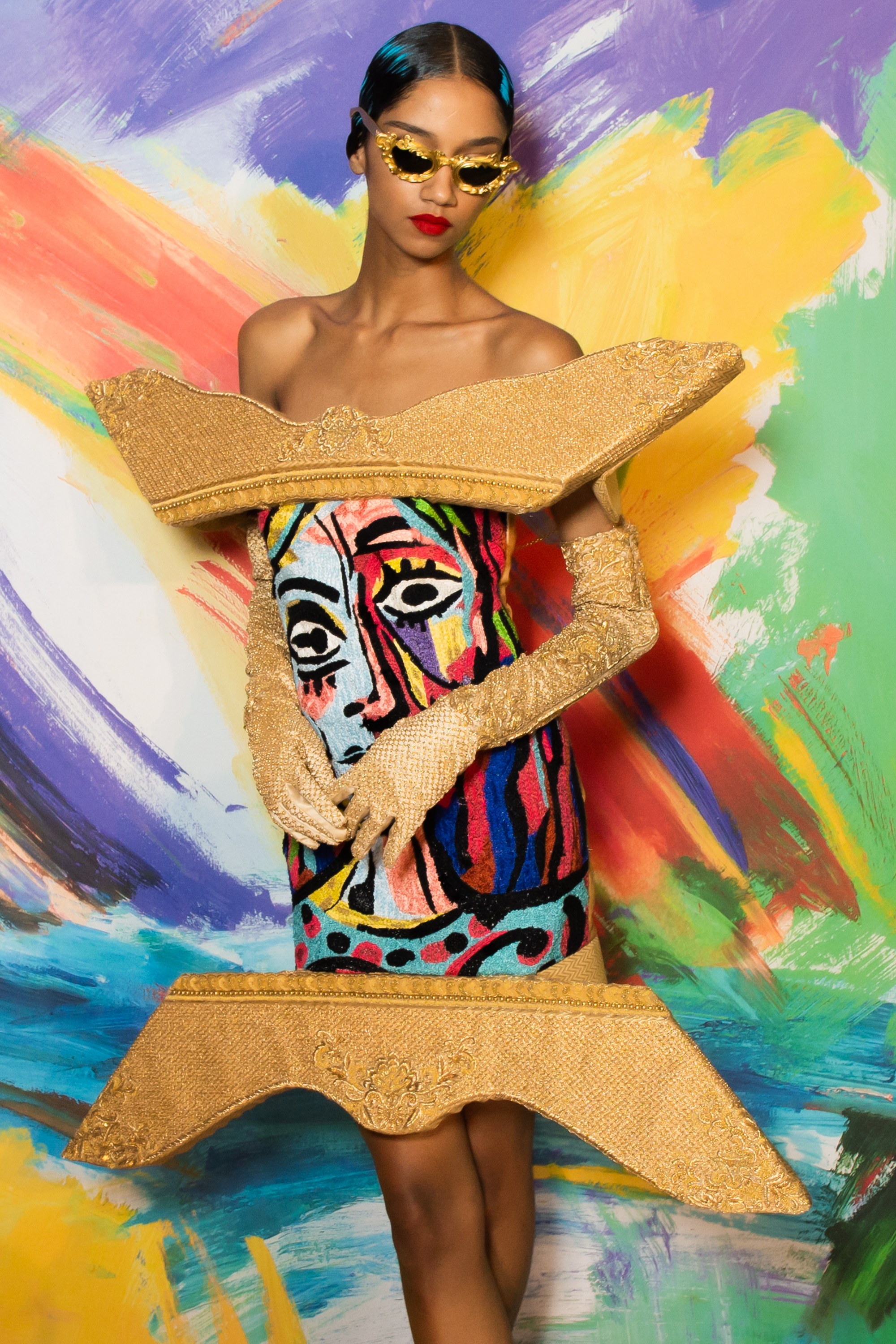 24 Sep

Jeremy Scott channels Picasso for Moschino Spring 2020

Jeremy Scott dug back into his bag of fashion tricks for Moschino in Milan for Spring 2020. As showgoers arrived at the Palazzo del Ghiaccio's venue-turned-catwalk, the space boasted two life-size Baroque-style frames.

It was anyway predictable that the rebel that revolutionized Moschino had an ace up its sleeve when talking about the new collection.

The accesories served as picturesque moments for each model on the runway, who were dressed in outfits that were covered in painterly prints, spanning the different styles, eras and mediums of the famous Spanish artist Pablo Picasso. There was Bella Hadid wearing a harlequin outfit from the painters "Rose Period;" Kaia Gerber donning an actual abstract guitar from when he dabbled in sculpture; Cara Taylor costumed into a framed charcoal drawing; and Stella Maxwell in a dress embellished with Picasso's famous "little flowers."

Even the late creative's signature and the Moschino logo were parodied creating a more stylish look inspired by Picasso's signing. The catwalk became instantly in a mirror of the classic Spanish culture, at times the subject was Picasso's artwork itself, but the Spanish culture also turned the topic that conduit the show displaying and exploring thought many other Spanish typical folkloric subjects like matadors, bulls and flamenco dancers.

The American designer has been the creative director of the Italian brand since 2013, when he took the position that Rossella Jardini held, meeting the target. The designer debuted on the runway with the Italian firm in 2014 with a collection that left no one indifferent. Like everything it does, the show had humour, subtle references and a lot of extravagance, some great aptitude that has become his personal style and that we can already see and enjoy.
DISCOVER GREAT ART TO BUY