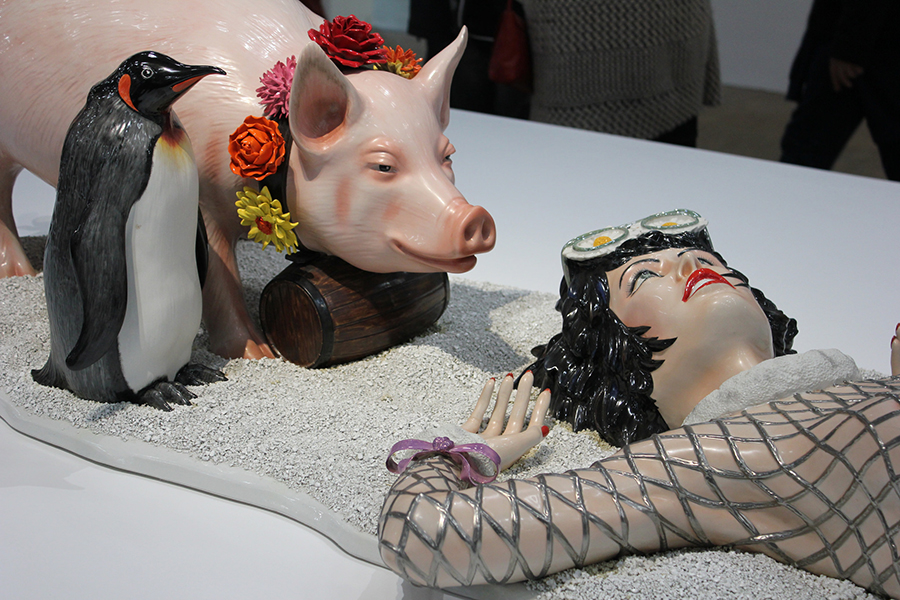 13 Nov

Jeff Koons Sentenced for Plagiarism

The American artist, Jeff Koons is punished for copying an advertisement created by NAF- NAF in 1985.

"Fait d'hiver" is the name of both the statue created by Jeff Koons in 1988 and the advertisement by Frank Davidovici, art director of NAF- NAF in mid 80´s. And curiously, both "Fait d'hiver" feature a woman lying in snow being nuzzled by a pig.

Of course, if you look at both designs, you will find out that there are multiple differences. Koons's "Fait d'hiver" is a colourful sculpture, not a black-and-white photograph, and its woman has sunglasses on her forehead. Koon also adds two penguins to the mise-in-scene.

This week, almost 4 years later of the official complaint, The Court of Great Instance of Paris condemned Koons, the company that bears his name (Jeff Koons L.L.C) and the Center Pompidou in Paris, where the work was exhibited in a large retrospective organized in 2014, to pay 135,000 euros to the artistic director who designed that advertising and demandant, Frank Davidovici.

Koons was already convicted in March 2017 in another case of plagiarism by the same French court. Although the compensation was then substantially lower: the artist had to pay 20,000 euros to the heirs of photographer Jean-François Bauret, who had brought Koons to court for plagiarizing one of his images in his work "Naked". Koon´s statue which represented two naked children very similar to those of the image of Bauret.

Both "Fait d'hiver" and "Naked" belong to Banality, a collection which has already been related with plagiarism in the past.