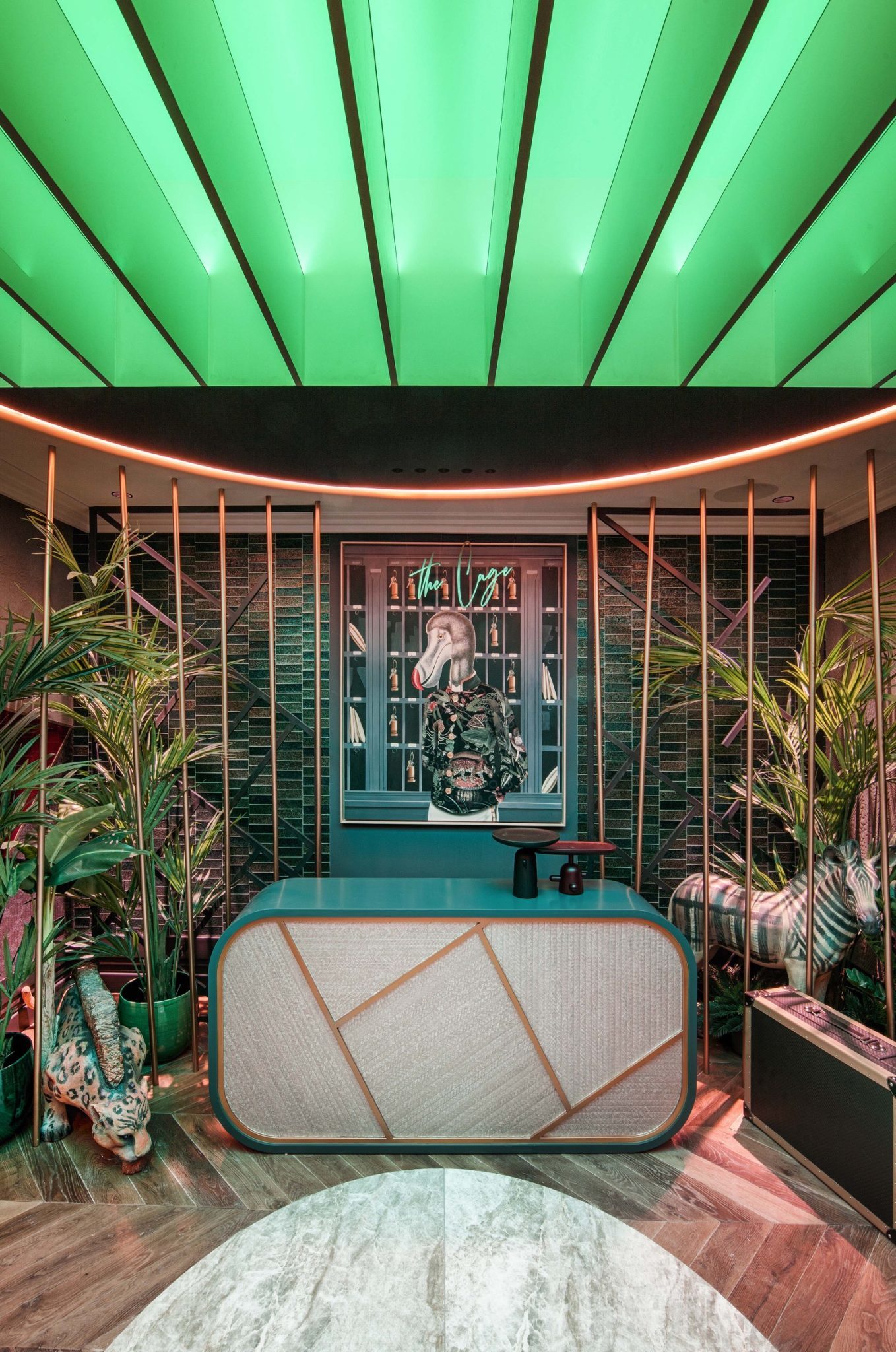 24 Jan

GRAND HOTEL: An optical illusion that you can not miss in Casa Decor 2019

The fantastic movie of Grand Hotel launched Greta Garbo to stardom. It seems that the success of the actress cannot be separated from the title that flooded the movie theaters of Hollywood back in 1932. The strength of this classic and elegant hotel has been transferred to the collective imagination overcoming the barriers of the big screen.

Almost 90 years after its creation, the PICTOCLUB art gallery launches a homonymous work starring a very special lobby boy: a dodo. Doesn't it look like something out of a movie?

Created in acrylic on canvas and designed exclusively for Casa Decor 2019, the "Grand Hotel" of PICTOCLUB far exceeds fiction, moving us even to a surrealist scenario. Inspired by the classic American hotel lobby in which the very same Garbo could have requested a room, the painting turns the receptionist, located in front of a charcoal gray box, into this animal of undoubted elegance. Both the head of the creature, and the textile print of his uniform jacket, are created under the inspiration of the collection of wallpapers " Extinct animals" from the company Arte (www.arte-international.com).

Beyond the film, beyond the painting and beyond even its own frame, the work "Grand Hotel" has been created as an optical illusion, making us believe that the dodo is really there, behind the reception desk of the lobby, greeting kindly to those who approach him and waiting patiently for the next guest to arrive.

ABOUT GRAND HOTEL

"Grand Hotel" is a work created exclusively by PICTOCLUB in collaboration with the interior design studio ELE ROOM 62, for the space "The Cage" in the 54th edition of Casa Decor. A fully customized painting created for the occasion that can be visited in space 45, third floor, Casa Decor 2019, Nuñez de Balboa Street 84, from January 24 and until March 10. Measures: 150 x 120 cm | Materials: Acrylic on canvas with textile applique | Price: 2,125€

ABOUT PICTOCLUB

PICTOCLUB is a new online art gallery concept designed for unconventional collectors looking for works of art beyond traditional channels. Iconic works of art, at affordable prizes and totally customizable, make PICTOCLUB an essential alternative for art lovers and a fundamental tool for decorators and interior designers looking for exclusive works for their projects. The pictorial works of PICTOCLUB are 100% hand painted on high quality canvas; the photographic ones, are digitized and printed in laboratories of international reference and the sculptures are handmade in plaster in our Studio. Unique and exclusive works of art created by our experts; all of them artists from multiple disciplines that fill this platform of color with their works and who work in a professional manner under the signature of PICTOCLUB. Without intermediaries, or agents. PICTOCLUB is present in more than 30 countries and creates exclusive custom works with interior architects from around the world.